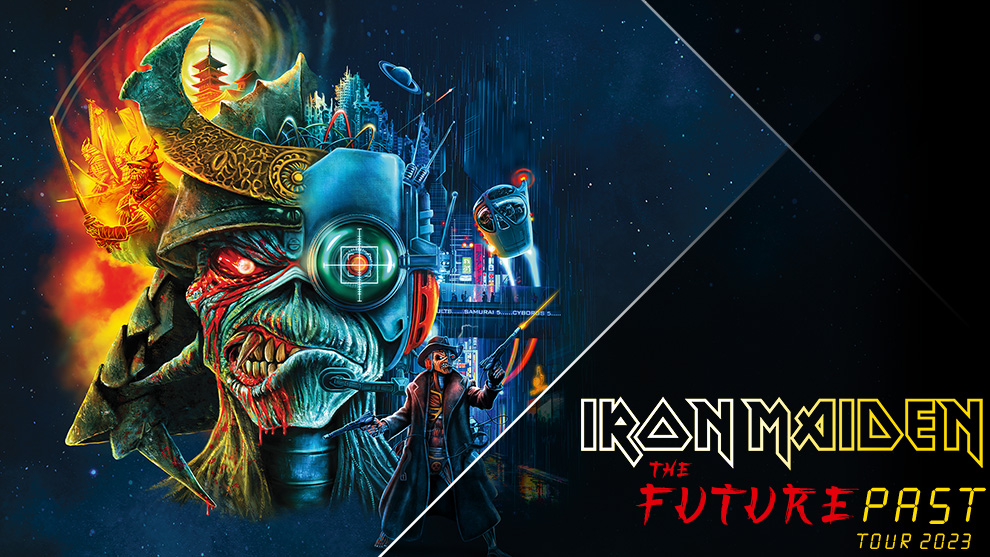 IRON MAIDEN (Heavy Metal, Royaume-Uni) vient d'annoncer la tenue d'une tournée Européenne à l'été 2023, Future Past Tour 2023, avec les premières dates en Angleterre, en Irlande, en Belgique, en Suisse ou Italie.
Cette tournée sera basée sur le dernier album en date, Senjutsu, et sur les classiques de l'ère 1986 ainsi que d'autres classiques du groupe.
Voici les premières dates du Future Past Tour 2023 :
June 2023
13 Tauron Arena, Krakow, POLAND - (On sale Fri Oct 14)
19 Hallenstadion, Zurich, SWITZERLAND - (On sale Thu Oct 13)
24 3Arena, Dublin, IRELAND - (On sale Fri Oct 14)
26 Ovo Hydro, Glasgow, SCOTLAND - (On sale Fri Oct 14)
28 First Direct Arena, Leeds, ENGLAND - (On sale Fri Oct 14)
30 AO Arena, Manchester, ENGLAND - (On sale Fri Oct 14)
July 2023
03 Motorpoint Arena, Nottingham, ENGLAND - (On sale Fri Oct 14)
04 Utilita Arena, Birmingham, ENGLAND - (On sale Fri Oct 14)
07 O2 Arena, London, ENGLAND - (On sale Fri Oct 14)
11 Ziggo Dome, Amsterdam, THE NETHERLANDS - (On sale Thu Oct 13)
13 Sportpaleis, Antwerp, BELGIUM - (On sale Thu Oct 13)
15 The Return of the Gods Festival, Milan, ITALY - (On sale Tomorrow! Fri Oct 7)
Steve Harris :
"Suite à la sortie de notre dernier album, Senjutsu, nous avons un peu mis à jour l'actuel Legacy of the Beast Tour en ouvrant le spectacle avec les 3 premières chansons, avec la scène du Palais japonais. Comme il n'est pas très logique de le répéter pour une tournée de Senjutsu, nous avons pensé à d'autres options et nous avons décidé de revisiter Somewhere In Time car cette tournée ne figurait pas dans les différentes rétrospectives historiques que nous avons jouées au fil des années. Elles étaient basés sur nos vidéos de concerts des années 80 et malheureusement nous n'avons pas filmé cette tournée (blâmez le manager !). Nous avons eu beaucoup de demandes de fans au fil des ans pour de nombreux morceaux de cette tournée donc nous allons maintenant les jouer, plus bien sûr quelques autres dont nous savons que vous les aimerez! Ce sera aussi particulièrement satisfaisant de pouvoir enfin jouer certains des morceaux les plus épiques de Senjutsu, ça a été une longue attente ! 2023 va être une période passionnante et nous sommes vraiment impatients de revoir tout le monde au Royaume-Uni, en Irlande et en Europe"
Rod Smallwood, le manager du groupe, ajoute :
"Cette combinaison des deux albums nous semble très excitante. Nous savons que les fans veulent entendre ces morceaux épiques de Senjutsu pour la première fois en live et nous pensons qu'en les combinant avec un album iconique comme Somewhere In Time, cela fera une autre tournée vraiment spéciale pour les anciens et les nouveaux fans ! Bien sûr, pour une nouvelle tournée d'albums en Europe et au Royaume-Uni, nous reviendrons en grande partie à l'intimité relative des arènes et nous savons que les fans seront très heureux de cela aussi!"