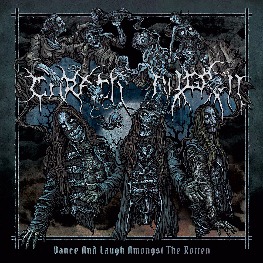 Deux ans après l'excellent This Is No Fairytale, les maîtres de l'Horror Metal Symphonique sont de retour avec Dance And Laugh Amongst The Rotten.
Après avoir consacré leur précédent effort au conte Hansel & Gretel dans une version remaniée à leur sauce, les bataves optent cette fois-ci pour un format épisodique en nous proposant une histoire par titre avec comme pour toile de fond une sombre histoire de planche ouija.
Connus et reconnus depuis leurs débuts pour leur théâtralité et leur grandiloquence, les hollandais ont au fil des ans affinés leur art et nous surprenne à chaque nouvelle sortie et ce nouvel album ne déroge pas à la règle et nous offre certainement leur oeuvre la plus aboutie.
La magnifique introduction nous convie à ce nouveau cauchemar musical sur ces inquiétantes notes de piano et nous prend directement à la gorge avec Charlie, titre grandiose d'une extrême efficacité et nous plante le décor de la meilleure des manières. Les orchestrations sont une nouvelle fois époustouflantes et les différentes ambiances qui contribuent à nous plonger dans les différentes histoires ici contées sont d'une rare beauté.
Blood Queen continue sur cette magnifique lancée avec ce titre très black metal dans l'esprit et rappelle la folie destructrive et baroque d'ANOREXIA NERVOSA mais c'est Song For The Dead qui va tirer son épingle du jeu avec ce titre à mi-chemin entre la balade et la valse et qui semble sorti tout droit de l'esprit de Danny EFLMAN.
Une fois de plus, l'interprétation de Dennis "Seregor" Droomers (Chant/guitare) est époustouflante et ne faiblit pas tout au long de l'album. Les variations de voix qu'il propose sont incroyables et ne peuvent mieux coller au style désormais inimitable de CARACH ANGREN. Tout comme les sublimes orchestrations que nous offre Clemens "Ardek" Wijers, phénoménal encore une fois sur cet album, sans oublier Ivo "Namtar" Wijers (batterie) lui aussi épatant de de maîtrise.
Vous l'aurez certainement compris, CARACH ANGREN nous offre avec Dance And Laugh Amongst The Rotten un nouveau joyau noir et par la même occasion son meilleur album. Une oeuvre majeure à ne laisser passer sous aucun prétexte!
Titres de l'album :
Opening
Charlie
Blood Queen
Charles Francis Coghlan
Song For The Dead
In De Naam Van De Duivel
Pitch Black Box
The Possession Process
Three Times Thunder Strikes