CORPSEFUCKING ART (Brutal Death Metal, Italie) publiera son cinquième album, Splatterphobia, le 23 novembre prochain chez Comatose Music. L'album a été enregistré, mixé et masterisé aux Hombrelobo Studios de Rome.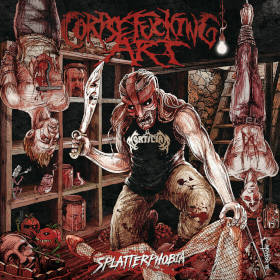 Track-list : 01. Splatterphobia | 02. Satanic Barbecue | 03. Black Sheep Terror | 04. Tomator | 05. Nightmare City | 06. Robocorpse II | 07. Devoured by the Sauce | 08. Beyond the Holy Grounds (Tomato version) | 09. Staring Through the Eyes of the Dead (CANNIBAL CORPSE cover) | 10. Blood, Knife, Mirror
Le groupe a confié l'enregistrement des caisses à son batteur live, Marco Coghe, pour cet album où Danny Cinicolo (EXCIDIUM, MALEFICARUM) est également invité pour un solo sur la cover de CANNIBAL CORPSE, "Staring Through The Eyes Of The Dead" et Max Varany, ancien vocaliste du groupe, sur le réenregistrement du titre "Beyond The Holy Grounds" datant de l'époque où le groupe se nommait ENTHRALMENT (1993-1994) publié à l'époque sur un vinyle 7".