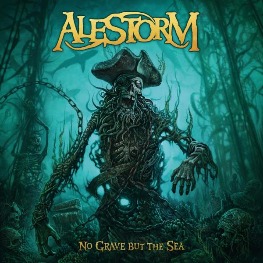 Déjà le cinquième pour les pirates rigolos et alcoolos de ALESTORM et quoi de neuf à l'horizon? Et bien pas grand chose mon capitaine!
No Grave But The Sea se veut être dans la continuité des précédents albums du groupe, soit un "pirate" metal à tendance folklorique ou les hymnes à la bière et à la fête en général sont légion. Loin d'être des manchots, les musiciens proposent une prestation des plus carré mais les compositions commencent sérieusement à tourner en rond.
Au-delà de la qualité irréprochable des musiciens, le groupe se complaît dans le genre qui fait son succès sans la moindre prise de risques et c'est fort dommage. Les fans seront certainement ravis de ce nouvel album et c'est certainement en concert que ces nouveaux hymnes à la piraterie prendront toute leur dimension... avec une chope à la main!
ALESTORM fait du ALESTORM et après tout, n'est-ce pas tout ce que les fans attendent d'eux?
No Grave But The Sea ne marquera pas les esprits mais marquera certainement vos soirées d'été avec vos potes de beuverie!
Titres de l'album :
No Grave But The Sea
Mexico
To The End Of The World
Alestorm
Bar ünd Imbiss
Fucked With An Anchor
Pegleg Potion
Man The Pumps
Rage Of The Pentahook
Treasure Island