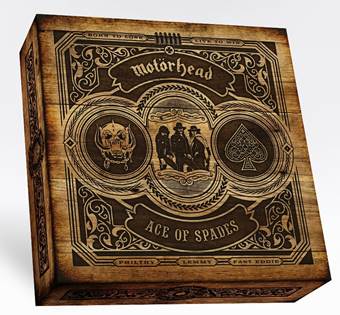 Le 30 octobre prochain, BMG publiera un coffret célébrant les 40 ans de l'album Ace Of Spades de MOTÖRHEAD (God Of Rock, Etats-Unis) comprenant :
- The Ace Of Spades album, half-speed master et créé à partir des bandes originales.
- Deux double-live albums de concert inédits jusque là issu du Ace Up Your Sleeve tour.
- A Fistful Of Instrumentals : Un 10" EP de titres instrumentaux inédits de 1980.
- The Good, The Broke & The Ugly. Un double album de B-sides, version alternatives et titres rares.
- Ace On Your Screens: Un DVD compilation de rares apparitions TV datant de 1980-81, un concert de 1981 et un mix audio 5.1 de l'album original.
- The Ace Of Spades story. Un livre de 40 pages racontant l'histoire de Ace Of Spades à travers des interviews inédites avec des personnes qui étaient là, incluant également des photos inédites et des souvenirs.
- The Ace Up Your Sleeve tour programme
- The Motörhead Rock Commando comic.
- Un jeu de 5 dés de poker qui peuvent être joués sur le plateau de jeu à l'intérieur du couvercle du coffret.
- Le tout renfermé dans une classic Wild West dynamite box.
- Un limited edition 7' reproduction de la version Hollandaise de "Ace Of Spades" avec une version inédite jusqu'alors avec une version instrumentale en face B.
Retrouvez l'intégralité du tracklisting dans le détail de la news ainsi qu'une version live du titre "Ace Of Spades" captée à Belfast en 1981. D'autres versions de cette réédition sont également disponibles.
Shop
Ace of Spades
Side One
Ace Of Spades
Love Me Like A Reptile
Shoot You In The Back
Live To Win
Fast And Loose
(We Are) The Road Crew
Side Two
Fire Fire
Jailbait
Dance
Bite The Bullet
The Chase Is Better Than The Catch
The Hammer
A Fistful Of Instrumentals
Side One
Ace Of Spades (demo)
Hump On Your Back (demo)
Shoot You In The Back (demo)
Fast And Loose (demo)
Side Two
Dirty Love (demo)
Love Me Like A Reptile (demo)
Dance (demo)
Riders Wearing Black
Live At Whitla Hall, Belfast – 23rd Dec 1981
Side One
Ace Of Spades
Stay Clean
Over The Top
The Hammer
Shoot You In The Back
Metropolis
Side Two
(We Are) The Road Crew
No Class
Bite The Bullet
The Chase Is Better Than The Catch
Side Three
Jailbait
Leaving Here
Capricorn
Too Late, Too Late
Side Four
Overkill
Bomber
Motörhead
Dead Man's Hand
Live At Parc Expo, Orleans – 5th March 1981
Side One
Ace Of Spades
Stay Clean
Over The Top
Metropolis
Shoot You In The Back
Side Two
The Hammer
Jailbait
Leaving Here
Fire Fire
Love Me Like A Reptile
Side Three
Capricorn
Too Late, Too Late
(We Are) The Road Crew
No Class
Side Four
Bite The Bullet
The Chase Is Better Than The Catch
Overkill
Bomber
The Good, The Broke & The Ugly
Side One
Ace Of Spades (Alternative Version)
Dirty Love
Love Me Like A Reptile (Alternative Long Version)
Shoot You In The Back (Alternative Version)
Side Two
Hump On Your Back
Fast And Loose (Alternative Version)
(We Are) The Road Crew (Alternative Version)
Fire Fire (Alternative Version)
Jailbait (Alternative Version)
Side Three
Waltz Of The Vampire
The Hammer (Alternative Version)
Dirty Love (Alternative Long Version)
Bastard
Godzilla Akimbo
Side Four
Love Me Like A Reptile (Alternative Version)
Dirty Love (Alternative Version)
Please Don't Touch (Performed by Headgirl)
Bomber (Performed by Girlschool)
Emergency
Ace On Your Screens DVD
Part 1 : Motörhead on TV 1980-1981
Part 2 : BBC In The City; Live In Belfast '81
Part 3 : 5.1 audio mix of Ace Of Spades