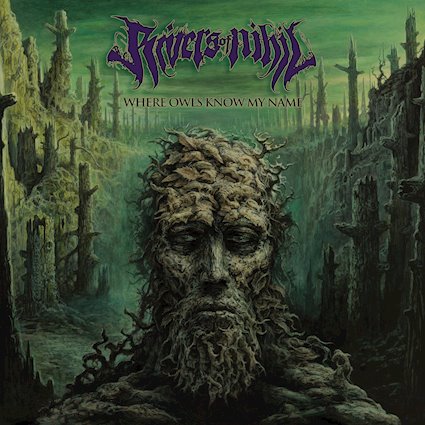 RIVERS OF NIHIL (Technical Death Metal, Etats-Unis) sortira son troisième album Where Owls Know My Name le 16 mars 2018 chez Metal Blade Records. Where Owls Know My Name réuni RIVERS OF NIHIL avec le producteur de Monarchy, Carson Slovak (AUGUST BURNS RED, THE LAST TEN SECONDS OF LIFE) et Dan Seagrave, l'artiste derrière les célèbres covers de Left Hand Path d'ENTOMBED et Effigy of the Forgotten de SUFFOCATION.
Track-listing :
Cancer / Moonspeak
The Silent Life
A Home
Old Nothing
Subtle Change (Including the Forest of Transitionand Dissatisfaction Dance)
Terrestria III: Wither
Hollow
Death Is Real
Where Owls Know My Name
Capricorn / Agoratopia
Afin de célébrer le début de sa tournée Américaine avec THY ART IS MURDER et DYING FETUS, le groupe avait dévoilé un premier extrait de cet album, il s'agissait du titre "The Silent Life", c'est désormais le titre "A Home" qui vient d'en être dévoilé et les 2 titres sont à écouter ci-dessous.
--CD
--Swamp green vinyl + download card (limited to 400 copies - USA exclusive)
--Olive green w/ black splatter vinyl + download card (limited to 300 copies - USA exclusive)
--Doublemint inside swamp green vinyl + download card (limited to 300 copies - USA exclusive)