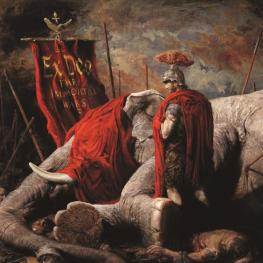 En "stand-by" depuis 2014, EX DEO, l'autre groupe de Maurizio Iacono (KATAKLYSM) revient en grande forme cette année avec The Immortal Wars, album concept qui traite de la seconde guerre punique qui opposa Rome à Carthage.
Après deux albums de très bonnes factures mais néanmoins inégaux (Romulus en 2009 et Caligvla en 2012), EX DEO se devait de frapper fort pour célébrer leur retour et on peut dire qu'ils n'y sont pas allés avec le dos de la cuillère! Avec un concept aussi ambitieux, le groupe ne pouvait faire autrement que de proposer un album à la hauteur de son sujet c'est clairement chose faîte avec The Immortal Wars.
Dès The Rise Of Hannibal qui ouvre l'album de façon monumentale, la sensation que l'on a affaire un grand album se fait immédiatement ressentir tant la puissance que dégage ce titre coupe le souffle. Mid-tempo ravageur aux arrangements symphoniques dignes de plus grands peplums, ce titre introduit parfaitement cet album et notamment le titre suivant Hispania où la puissance est une fois de plus au centre du débat au service d'un titre illustrant parfaitement l'histoire que dépeint le groupe.
En seulement deux titres, EX DEO parvient à surpasser ses deux premiers albums et à s'imposer en nouveau leader d'un genre aux cotés de FLESHGOD APOCALYPSE ou encore SEPTICFLESH et même AMON AMARTH et ce n'est pas Crossing Of The Alps ou Cato Major : Carthago Delenda Est! qui changeront la donne tant ces titres ont l'allure de chef d'oeuvre.
Les mélodies, les riffs, les solos, les rythmiques, le chant habité de Maurizio et l'apport des orchestrations sont la formule magique de ce The Immortal Wars et font de cet album le meilleur du groupe mais aussi l'un des meilleurs album de metal extrême, voir de metal tout court de ces dernières années.
Titres de l'album :
The Rise Of Hannibal
Hispania (The Siege Of Saguntum)
Crossing Of The Alps
Suavetaurilia (Intermezzo)
Cato Major : Carthago Delenda Est!
Ad Victoriam (The Battle Of Zama)
The Spoils Of War
The Roman