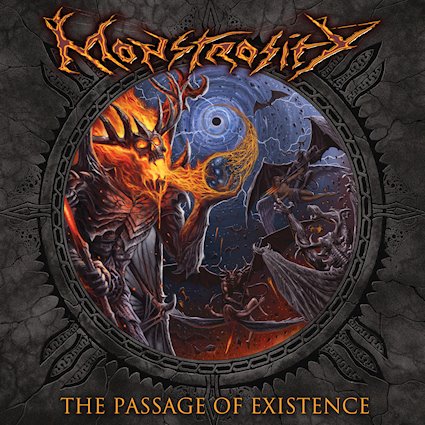 MONSTROSITY (Death Metal, Etats-Unis) sortira son prochain album, The Passage Of Existence, le 7 septembre prochain chez Metal Blade Records. Le batteur Lee Harrison a enregistré aux Audiohammer Studios de Sanford en Floride avec le producteur Jason Suecof. Les guitares et la basse ont été mises en boite au Ascension Sound de Tampa et le chant aux Redneck Studios d'OBITUARY à Gibsonton en Floride. Le mix a été pris en charge par Mark Lewis (MEGADETH).
Track-listing :
Cosmic Pandemia

Kingdom Of Fire

Radiated

Solar Vacuum

The Proselygeist

Maelstrom

Eyes Upon The Abyss

Dark Matter Invocation (ltd. Digi-CD bonus)

The Hive

Eternal Void (ltd. Digi-CD bonus)

Century

Slaves To The Evermore
Après le titre "Cosmic Pandemia", découvrez le nouvel extrait "Radiated" ci-dessous ainsi que les différentes versions proposées.
--ltd. Digipak-CD w/2 bonus tracks
--180g black vinyl
--orange/red marbled vinyl (limited to 500 copies - EU exclusive)
--transp. grey-brown marbled vinyl (limited to 300 copies - EU exclusive)
--dusk blue-marbled vinyl (limited to 200 copies - EU exclusive)
--terracotta-marbled vinyl (limited to 120 copies - ebay exclusive)
--deep violet blue-marbled vinyl (limited to 500 copies - US exclusive)