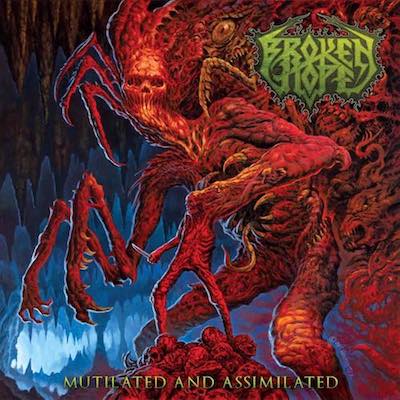 BROKEN HOPE (Brutal Death Metal, USA) sortira son septième album studio intitulé Mutilated And Assimilated le 23 juin chez Century Media.
Voici ce qu'en dit le fondateur, guitariste et parolier Jeremy Wagner:
L'album studio de Broken Hope numéro sept ?! Incroyable ! Je suis vraiment étonn par notre nouvel album. Les chansons sont implacables, violentes, sombres et lourdes. De plus, grâce à mon nouveau studio et au travail stellaire d'ingénierie / production de Scott Creekmore, la production est à un niveau sonique que nous n'avons jamais eu dans notre carrière.

"Merci à mes frères: Damian, Mike, Matt, Diego et Scott, qui ont apporté leur talent et leurs compétences incroyables pas seulement juste au niveau requis, mais vraiment jusque la stratosphère ! Merci à Wes Benscotter d'avoir collaboré avec nous pour créer un artwoerk épique, inspiré et sick, et un grand merci à Century Media dans le monde entier pour être à nos cotés pour ce nouvel album.

"Pour moi personnellement, je sens que Mutilated And Assimilated est ma meilleure heure de guitariste et de parolier depuis que j'ai formé ce groupe quand j'étais encore adolescent. Je n'ai jamais autant ressenti l'inspiration que cette fois. L'album a son plus fort rifage à ce jour, c'est aussi le riffage de Leski sur quelques chansons, il y a mes meilleurs amis sur ce skeud, et, truc de fou, j'ai utilisé les guitares de Jeff Hanneman pour écrire l'album et les ai utilisées pour enregistrer en l'honneur de son influence sur moi-même et sur le monde du métal .

"Il y a beaucoup de choses sur ce nouvel album de BH! Jesui vraiment impatient que vous entendiez tous Mutilated And Assimilated. Death metal forever! "
Un troisième titre vient d'être dévoilé, il s'agit de "The Meek Shall Inherit Shit" qui nous arrive sous la forme d'un clip 360 qui se regarde ci-dessous en compagnie de la lyrics video de"Mutilated and Assimilated" et du clip de de la plage titulaire, "The Carrion Eaters", dévoilés précédemment.