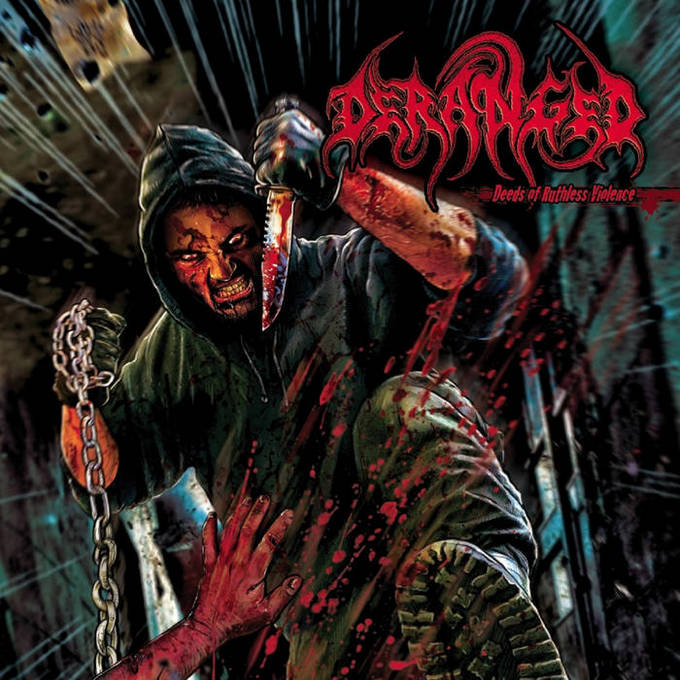 DERANGED (Brutal Death Metal, Suède) sortira son dixième album studio, intitulé Deeds of Ruthless Violence, le 27 mars prochain chez Agonia Records.
L'album a été enregistré au Berno Studio (AMON AMARTH, THE CROWN...). L'artwork, en grand en détail de la news, est signé Mike Hrubovcak (GRAVE, SINISTER, SIX FEET UNDER). Cet album sera le premier avec le nouveau chanteur Johan Bergström (VISCERAL BLEEDING).
Tracklist:
1. Necro-bulimia interfering afterlife
2. Engulfed by hate I stab to kill
3. Level of lividity
4. Carnal provision for the rotten masses
5. Through stages of putrefaction
6. Carried in pain, released by torture
7. Quarantine required for living entities
8. I send you half the kidney I took
Le titre "Necro-Bulimia Interfering Afterlife" est à découvrir dans le détail de la news.
Le groupe sera de plus en tournée en Europe en mars, avril... (les dates en détail de la news).
Tour dates:
28.02.2020: Gävle @ CLUB STEAM, SE
20.03.2020: St. Petersburg @ ZOCCOLO 2.0, RU
21.03.2020: Moscow @ MONACLUB, RU
23.03.2020: Ryazan @ RAZ DVA BAR, RU
02.04.2020: Barcelona @ SALA ROCKSOUND, SP
03.04.2020: Salamanca @ NAVE BUNKER, SP
04.04.2020: Vigo @ TRANSYLVANIA METAL PUB, SP
05.04.2020: Barakaldo @ SALA EDASKA, SP
17.04.2020: Rostock @ JAZ CLUB, DE
18.04.2020: Bremen @ HANSEMOSH FESTIVAL, DE
30.04.2020: Santander @ ROCK THE BEER, SP
01.05.2020: SWR BARROSELAS FESTIVAL, POR
02.05.2020: Madrid @ T.B.A., SP
22.05.2020: LEIPZIG DEATH FEST, DE
23.05.2020: NICE TO EAT YOU FESTIVAL, CZ
12.06.2020: Stockholm @ FREDAGSMANGEL, SE
13.06.2020: Gothenburg @ BELSEPUB, SE
10.07.2020: Malmö @ GOROFEST @ PLAN B, SE
20.11.2020: Sofia @ GRINDHOUSE SKATEBOARD CLUB, BGR
21.11.2020: Athens @ BRUTALITY OVER SANITY FESTIVAL, GRC