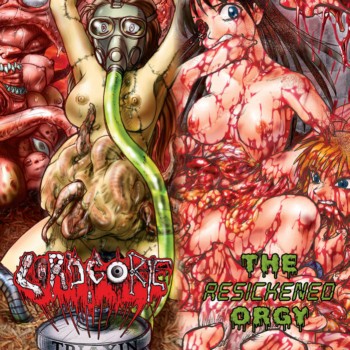 LORD GORE (Death Metal / Grindcore, Etats-Unis) publiera une compilation 2CD nommée The Resickened Orgy chez Horror Pain Gore Death Productions le 24 mai prochain. Le groupe qui avait splitté en 2006 est donc de retour avec notamment Ryan B. Sanderson alias Dr. Hordak Scum (ENGORGED), le premier guitariste du groupe.
TRACK LISTING:
Disc One: The Autophagous Orgy1. Intro2. Morgue Whore3. Krash Kourse In Psychopathology4. Rape Camp5. The Forgotten Flesh6. The Last Supper (The Autophagous)7. Involuntary Vaginal Vermin Slut8. Post Coital Eruption9. Nekro-Erotic Art10. Zombie Molestation (Raped By The Dead)11. Lord Gore12. Breakfast At The Manchester Morgue (Impetigo cover)
Disc Two: Resickened1. Intro2. Gastric Gore-Met3. Brainfucker4. Liquid Lunch5. Trash-Hole6. Resickened7. N.C.T.B.8. Human Bot-Fly9. Chitin10. Kicked To Death11. Son Of Forgotten Flesh12. Megacephallus13. Trioxin
Les titres "Morgue Whore" et "Gastric Gore-Met" sont en écoute dans le détail de la news.