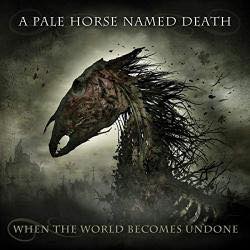 A PALE HORSE NAMED DEATH (Alternative Doom Metal, Etats-Unis) a dévoilé les détails de son prochain album, When the World Becomes Undone, leur troisième album à paraître le 18 janvier 2019 chez Long Branch Records.
Autours d'Abruscato, guitare et chant, le groupe est composé de Eddie Heedles (guitare), Joe Taylor (guitare, ex-Doro), Eric Morgan (basse), and Johnny Kelly (batterie , DANZIG, ex-TYPE O NEGATIVE).
When the World Becomes Undone arrive le 18 janvier 2019, les précommandes sont ouvertes ici.
Tracklisting:
1. As It Begins
2. When The World Becomes Undone
3. Love The Ones You Hate
4. Fell In My Hole
5. Succumbing To The Event Horizon
6. Vultures
7. End Of Days
8. The Woods
9. We All Break Down
10. Lay With The Wicked
11. Splinters
12. Dreams Of The End
13. Closure
Le titre "Love The Ones You Hate" vient d'être dévoilé et ce découvre ci-dessous.