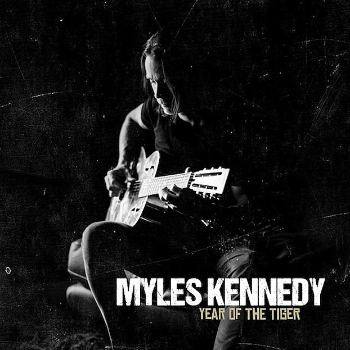 MYLES KENNEDY (ALTER BRIDGE, SLASH) publiera son premier album solo en 2018. Myles a évoqué cet album solo pour la première fois en 2009, ses fans étaient dans l'attente de savoir ce que le frontman d'ALTER BRIDGE pouvait bien leur réserver. Aujourd'hui, l'attente arrive à son terme : Kennedy a révélé que son premier disque en solo, intitulé Year of the Tiger, paraîtra le 9 mars prochain via Napalm Records.
Les douze pistes de cet album voient Kennedy explorer de nouveaux territoires sonores, s'éloignant quelque peu des côtés heavy d'ALTER BRIDGE ou de SLASH Featuring Myles Kennedy and the Conspirators. Year of the Tiger raconte une histoire, et l'artiste en profite pour se diversifier : outre la guitare et le chant, on le retrouve également au banjo, à la lap-steel, à la basse et à la mandoline.
Track-listing :
01. Year Of The Tiger
02. The Great Beyond
03. Blind Faith
04. Devil On The Wall
05. Ghost of Shangri La
06. Turning Stones
07. Haunted By Design
08. Mother
09. Nothing But A Name
10. Love Can Only Heal
11. Songbird
12. One Fine Day
Les précommandes de Year of the Tiger sont désormais ouvertes sur le webstore Napalm Records et sur le site officiel de Myles Kennedy.
"Cet album raconte une histoire. Il s'appuie sur la période du décès de mon père, quand j'étais petit, et sur ce qui s'est passé après avec ma mère, mon frère, et moi. C'est cette histoire que je raconte, dans ce qui est assurément un concept album du début à la fin." explique Myles Kennedy. Il ajoute : "Year of the Tiger est définitivement bluesy ; il y a plein de guitares à résonateur, de mandoline, du banjo, beaucoup de lap-steel. C'est très différent de ce que j'ai pu faire jusqu'à présent."